The Boeing 777 Set aircraft spare parts aeronautics and astronautics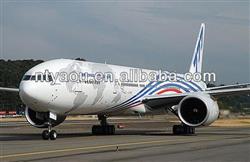 Payment Terms : L/C,T/T
Подробние информации

Boeing 777 Set aircraft spare parts
The 777 was initially conceptualized as a extended 767, but Boeing rather implement an all new design. One of the distinguished 777 design capabilities is a unique fuselage cross section.
The standard 777-200 was introduced in October of 1990 and was presented in two models, the basic 777-200 and the 777-200IGW which stands for Increased Gross Weight, these model has been redesigned as 777-200ER.
The 777-200 first flight took place on June of 1994 and its FAA and JAA certification were granted on April of 1995. The first airline to place an order was United Airlines in May of 1995 and the initial 777-200IGW/ER delivery was to British Airways in February of 1997.
Another version was the 777-100X which is a projected shortened ultra long range
The counterpart of Boeing 777-200 from Airbus is the A330-300.
Its specifications are the following:
Capacity
Flightdeck crew 2
Seating capacity, typical 305 (3-class) 400 (2-class) 440 (maximum)
Dimension
Length 209 ft 1 in (63.7 m)
Wingspan 199 ft 11 in (60.9 m)
Tail height 60 ft 9 in (18.5 m)
Weights
Empty weight 307,000 lb (139,225 kg)
Maximum take-off weight (MTOW)
Speed and Range
Cruising speed 0.84 Mach (560 mph, 905 km/h, 490 knots) at 35,000 ft (11,000 m) cruise altitude
Maximum range 5,235 nmi (9,695 km)
Engines
(x 2) PW 4077 RR 877
Схожая продукция