The Boeing 727 Set aircraft spare parts aeronautics and astronautics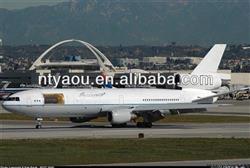 Payment Terms : L/C,D/A,D/P,T/T
Подробние информации

The Boeing 727 Set aircraft spare parts aeronautics and astronautics
727-100C
This is a convertible passenger cargo version. It has 94 mixed-class passengers, 52 mixed class passengers and four cargo pallets (22,700lb (10297kg))
727-100QC
QC is an abbreviation for Quick Change. It is like the Convertible version that has a roller-bearing.
727-100QF
QF is an abbreviation for Quiet Freighter turbofans.
The specifications of the 727-100 are the following:
Capacity
Max seating capacity 149
Cockpit crew Three
Dimension
Length 133 ft 2 in (40.6 m)
Span 108 ft (32.9 m)
Height 34 ft (10.3 m)
Weights
Zero fuel weight 100,000 lb (45,360 kg)
Maximum take-off weight 169,000 lb (76,818 kg)
Maximum landing weight 137,500 lb (62,400 kg)
Speed and Range
Cruising speed .81 Mach
Maximum speed .90 Mach
Engines
(3x) P&WJT8D-7, -17R&S
727-200
This is the stretched version of the 727-100. The -200 is around 20 feet longer than the -100. Its fuselage is also larger and is heavier in terms of gross weight but the wing span and height is still
It first flew on July of 1967 and its certification was awarded in November of the same year. The first airline that operated it was Northeast Airlines which was later acquired by Delta on the following month.
Its specifications are the following:
Capacity
Max seating capacity 189
Cockpit crew Three
Dimension
Length 153 ft 2 in (46.7 m)
Span 108 ft (32.9 m)
Height 34 ft (10.3 m)
Weights
Zero fuel weight 100,000 lb (45,360 kg)
Maximum take-off weight 209,500 lb (95,028 kg)
Maximum landing weight 161,000 lb (73,100 kg)
Speed and Range
Схожая продукция